(excluding ATOUT FRANCE camping classification)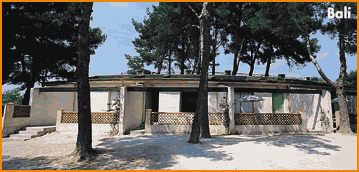 We propose you in residential studios and 2 rooms furnished and equipped for 2 to 6 persons (kitchenette, fridge, heating, dishes...).

Weekend and long term packages.
"BALI", "CAPRI" and "SAFI" : 1 T2, 6 BUNGALOWS, 8 STUDIOS, 5 BEDROOMS
The buildings " BALI " " CAPRI " and " SAFI " are located in the campsite. Each studio has a small terrace with its outdoor furniture.
"SANTA MARIA" : 16 STUDIOS + 6 BEDROOMS or 6 T2 + 10 STUDIOS
The "SANTA MARIA" building is located near the campsite, on an adjoining plot of land, directly on the seafront. The apartments are distributed on 2 levels: 1 ground floor and 1st floor.
EQUIPMENT:
- Furnishings: bedding, drawer bed, chairs, table, stools, outdoor furniture
- Kitchenette: 2-burner stove, stainless steel sink, refrigerator, storage
- Bathroom : shower, WC, washbasin
- Reversible air conditioning
- Wifi connection
- Kitchen utensils and dishes for 4 to 6 people
Household linen is to be provided (sheets, towels); however, a rental service and a periodic cleaning service are available.

RESERVATIONS:
If you wish to make a reservation, please write to us or contact us.
Depending on our possibilities and your convenience, you will be sent a rental contract to validate the reservation.
Motel rate for tourist accommodations 2022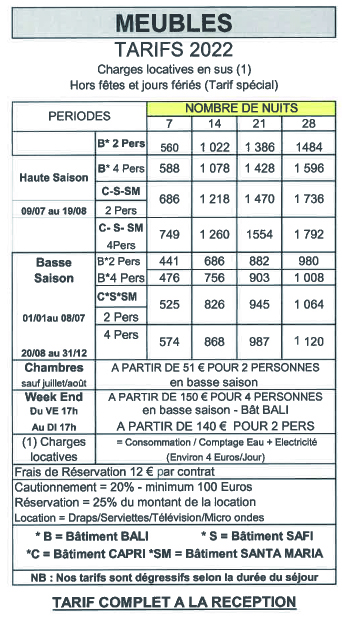 RATES ARE INCLUSIVE OF VAT, RENTAL CHARGES NOT INCLUDED
(Charges : consumption and metering, water + electricity according to individual meters)
 Approximately : 3 euros to 5 euros / day
- BONDING : On arrival, a deposit is required
 of 20 % of the amount of the rent 
 (minimum 100 EUROS per apartment)
- MISCELLANEOUS BENEFITS : On request and according to availability
- Microwave : 30 Euros / week
* Television : 50 EUROS / Week
* Sheets: 1 Pair = 12 EUROS - 2 Pairs = 21 EUROS (Cleaning included)
* 
- FESTIVALS AND HOLIDAYS : Special rates " B " (consult us)
- N.B. : Our rates are degressive according to the duration of the stay
  Study of " Group " rates
  Possibility of rates : ½ board or full board
 -PETS : 5 Euros/Day       RESERVATION FEES :   12€ PER CONTRACT